chicken legs with tomatoes and beans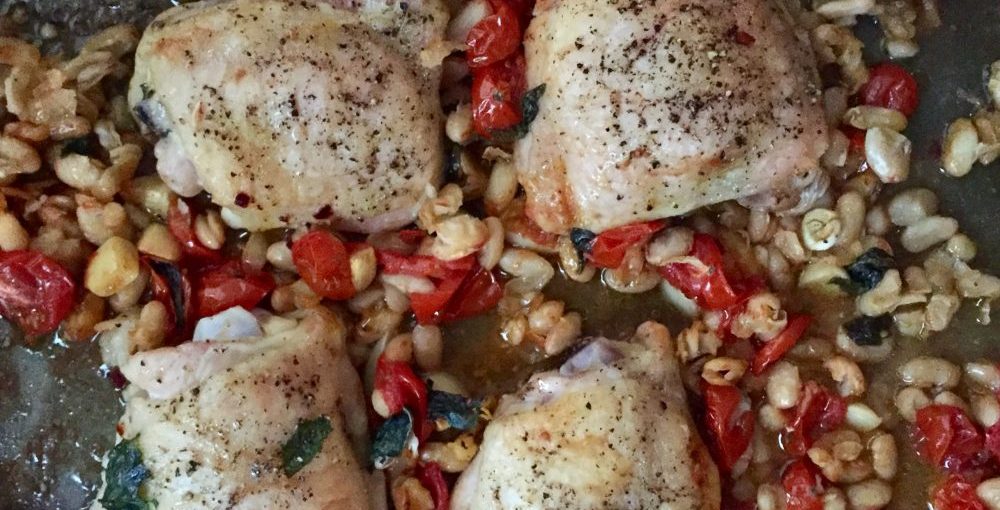 This has a great tastiness-to-effort ratio. It's also easy to scale for bigger groups.
Adapted from food52. 

Ingredients
4 chicken legs (or just thighs, or you could probably just use a whole cut-up chicken)
1 quart cherry tomatoes, halved
a bunch of fresh basil leaves
6+ garlic cloves, peeled and roughly chopped
1 can of white beans, drained and rinsed
1/8 tsp dried chili flakes
olive oil
salt
pepper
Instructions
Preheat your oven to 350F
Put the tomatoes, beans, and garlic in a roasting pan, then coarsely chop or rip the basil leaves and add them too.
Toss with a few tablespoons of olive oil, the chili flakes, and a 1/2 tsp or so of salt.
Trim the chicken legs and sprinkle with salt and pepper, then put them on top of the tomatoes.
Roast for an hour or so, stirring the tomatoes and beans around after 30 minutes to keep them from drying out.
Serve by itself, with bread, or with a grain like rice or barley.
---