pao de queijo aka cheese puffs aka cheesy poufs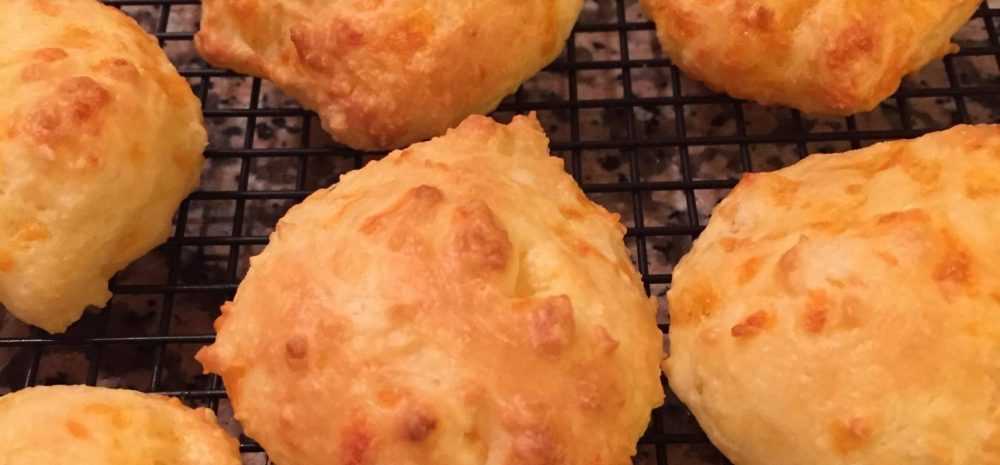 Thanks, Try the World, for opening my eyes to this delicious Brazilian snack. They are gluten-free and swimming in butter. Billy calls these "cheesy poufs", which is a name that I hate but has stuck.
Recipe adapted from Epicurious. Note: I used to have the right diacritics on this post but it keeps getting hammered with spam comments so I've removed them in case that for some reason helps?


Ingredients
1 cup tapioca flour
1/2 cup milk
1/4 cup butter
1/2 teaspoon salt
1/2-3/4 cup grated cheese (any semi-hard cheese would work)
1 egg
Instructions
Preheat your oven to 400F
Heat the milk, butter, and salt on the stove over medium heat until the butter melts and the whole thing starts to simmer.
Take the milk off of the heat and stir in the tapioca flour with a spoon or spatula (a whisk will clog almost immediately!). It should mostly gather up into a ball around your spoon once all the tapioca is in there. [Note: Don't do this in a mixer: you need the temperature to be high enough for the tapioca to thicken, and the warm pot keeps it up to temperature.]
Mix in the egg and the cheese. This will seem impossible if you're doing it by hand. Just keep stirring! It'll be a big coherent sticky blob at the end.
Get out your baking sheet (or layer two, if you're worried about the bottoms burning),
and line with parchment paper, or spray a muffin tin with oil. (OR: if you want to freeze the dough, just coat a baking sheet or plate with nonstick spray)
Drop the dough in roughly 2 tablespoon blobs onto the baking sheet using two spoons, your dough scoop of choice, or your hands (wetting your hands helps with the sticking). They won't spread much.
Bake them for 20-25 minutes, depending on your browning preferences. (OR: freeze the dough now. Once frozen, you can pry the blobs off of the baking sheet/plate and store them in a freezer bag. Bake straight from frozen as above, but they may need a few extra minutes to brown to the same degree)
Eat warm!
---
---