baked sweet potatoes with roasted garlic yogurt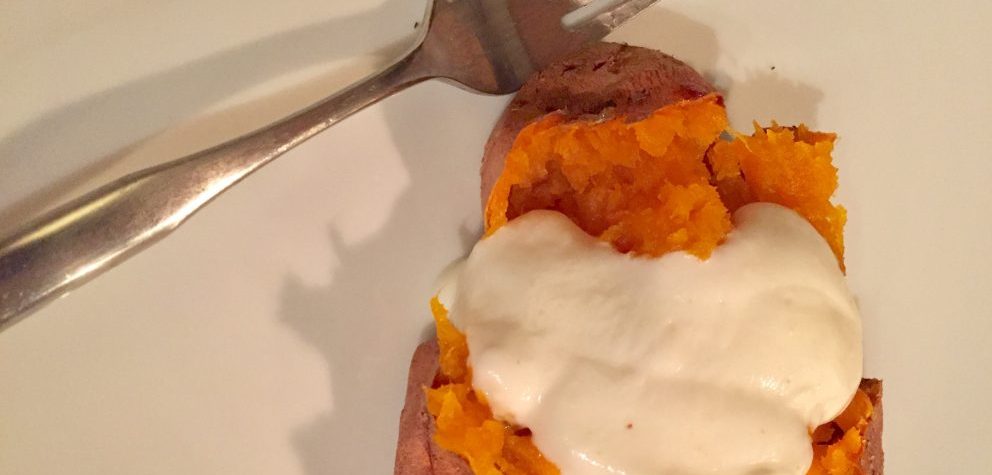 This is a combination recipe! Cook's Illustrated had a piece in August about the best way to bake sweet potatoes, which I loved by itself. They figured out that sweet potatoes become fluffy and soft after about an hour of being above about 160, so if you microwave them to get the temp up fast, you can finish them in one hour's baking instead of three.
Then Deb at Smitten Kitchen brought it to another level with her suggestion of serving them with roasted garlic yogurt. It's so good! So good.
So below is my recipe for a reasonably fast baked sweet potato + the most delicious yogurt sauce.
Adapted from Cook's Illustrated and Smitten Kitchen.

Ingredients
4 small-to-medium sweet potatoes, or 2 large
olive oil
salt
pepper
For the yogurt sauce:
4+ cloves of garlic
1 cup plain yogurt (full-fat Greek is best, but others would work fine)
1 tbsp olive oil
1/2 tsp salt
Instructions
For the sweet potatoes:
Preheat your oven to 400.
Stab 'em all over with a knife or fork.
Microwave them on full power for 4-6 minutes. If you have a thermometer, you want them to be around 160F when they're done.
Using a pastry brush or a paper towel, rub them all over with olive oil (careful--they're HOT, but don't let them cool!) and then generously sprinkle with salt and pepper.
Place the potatoes on an oven-safe cooling rack set on a baking sheet and bake for an hour. If you don't have an oven-safe cooling rack, just put the potatoes straight on the pan, it'll be fine.
For the yogurt sauce:
Chop the ends off the garlic cloves and wrap them up in foil.
Put them in the oven with the potatoes.
When the potatoes are done, pull out the garlic and squish the cloves into a bowl and mash them up.
Mix the garlic with the yogurt, olive oil, and salt
To serve:
Serve each person a sweet potato (or a half potato, if they were big ones), with garlic yogurt alongside.
They're also good reheated, though the potato skin stops being crisp.
---