coconut meringues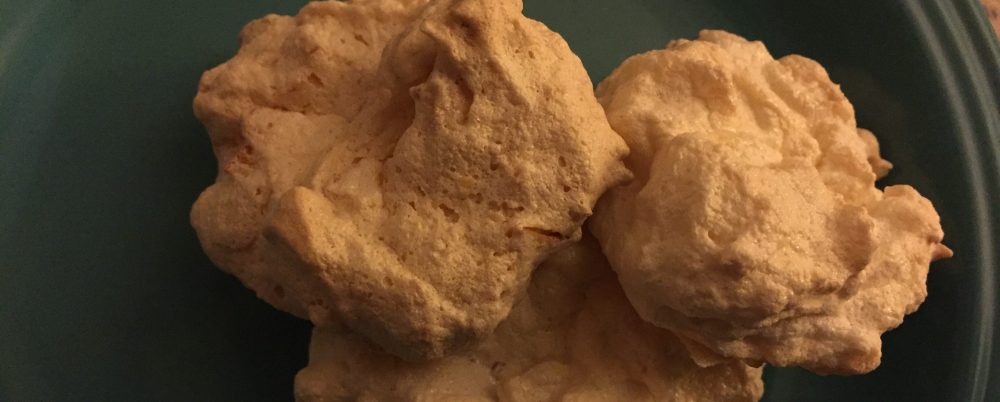 This is another super quick, super easy, super delicious recipe from my mom! I grew up calling these coconut macaroons, but upon eating other coconut macaroons as an adult, have decided that "coconut meringues" is probably a more universal name. They're very light and airy, like meringues, not dense like most macaroons.

Ingredients
2 egg whites
dash of salt
1/2 tsp vanilla
1/3-2/3 cup sugar (They turn out a little softer with less sugar)
1 1/3 cup flaked or shredded coconut (Find in the baking aisle in either a bag or a can. It usually comes sweetened. If you have unsweetened shredded coconut, you might want the higher amount of sugar, depending on your tastes)
Instructions
Preheat your oven to 325F.
Beat the egg whites with the dash of salt and the vanilla until you get to soft peaks.
Add in the sugar while the mixer is running, beating the egg whites until you get to stiff peaks. Be sure to scrape down the sides of the bowl at least once to get any stray sugar.
Fold in the coconut gently, trying not to knock too much air out of the egg whites.
Drop rounded spoonfuls onto a greased or parchment-lined cookie sheet.
Bake for 20 minutes.
FUN FACT! If you're vegan or allergic to eggs, you can use the liquid from a can of chickpeas as a substitute for anything requiring beating egg whites! If you reduce the chickpea-water down to about half the volume, it will whip up just like egg whites. Yes, it sounds impossible. Yes, it smells weird. And yet it somehow turns out fine!
---