jam bars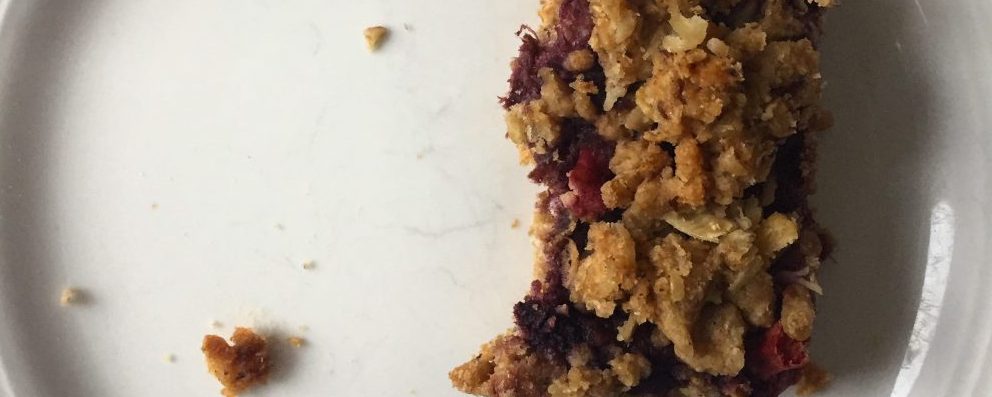 I adapted this recipe from Serious Eats after going to Iceland and eating these delicious oat bars at the airport. After some googling upon returning home, I identified them as hjónabandssæla (something like "happy marriage cake") and found this recipe in English that seemed do-able. They're not quite the same as the delicious airport snack, but they're super easy and very good.

Ingredients
1 1/4 c old fashioned rolled oats
1 c whole-wheat flour (all-purpose would also work!)
1/2 c brown sugar
1 tsp baking powder
1/4 tsp salt
1/4 tsp baking soda
1/4 tsp cinnamon
1 stick (1/2c) butter or margarine, cold and cubed
1 egg or flax egg (Mix 1 Tbsp flax meal with 3 Tbsp water and let sit for a few minutes)
Roughly 1/2c (200g) preserves or jam
Instructions
Preheat your oven to 350F
Prep an 8x8 pan with two strips of parchment paper set up crosswise with extra overhang, to use as a sling to get the bars out of the pan later
Mix the flour, oats, brown sugar, baking soda, baking powder, salt, and cinnamon in a bowl.
Toss the flour cubes in the dry mix.
Reach into the bowl and start smushing the butter into the dry mix. Keep stirring and squishing with your hands until the butter chunks are small and well-distributed. It'll take a couple of minutes.
Stir the egg/flax egg into the dry mix with a spoon or a spatula, then reach your hands back in and squeeze the mix until everything is clumped and there's no loose floury bits. If things seem extra dry, drizzle another teaspoon or so of water over everything and keep mixing.
Scatter up to 3/4 of the mix across the bottom of the pan, enough to cover the whole bottom of the pan. Press down on everything in the pan to make a cohesive layer of oatmeal dough.
Spoon the jam onto the oatmeal and spread it around to make a thin layer. If your jam is really thick, try microwaving it for a few seconds to try to loosen it up enough to spread easily, or mix with a wee bit of water.
Crumble the rest of the dough up like struesel and scatter it across the top.
Bake for 45 minutes, or until the top seems browned. If you're using a glass pan, you might want to add an extra 5-7 minutes if you want the bottoms crisper.
Let it cool in the pan for 10-15 minutes, then use the parchment sling to pull it out of the pan and onto a cooling rack.
Once cool, cut into squares!
---